Red Lobster is an American casual dining restaurant chain that is owned and operated by Darden Restaurants, Inc., headquartered in Orlando, Florida. The company also has operations in Canada, the United Arab Emirates, and Japan. As of May 29, 2011, there are 698 Red Lobster locations worldwide.
Red Lobster was founded in 1968 by entrepreneurs Bill Darden and Charley Woodsby. Originally billed as a "Harbor for Seafood Lovers", the first restaurant in Lakeland, Florida, was followed by several others throughout the southeast. In 1970, General Mills acquired Red Lobster as a five-unit company. With new backing, the chain expanded rapidly in the 1980s.

APPLE WALNUT CHICKEN SALAD
Red Lobster Copycat Recipe
Makes 2 servings
2 chicken breasts marinated in balsamic vinaigrette
5 cups mixed greens
1 red delicious apple, cored and un-peeled cut into
bite sized pieces and tossed with one teaspoon
lemon juice to prevent browning
5 tablespoons chopped walnuts
2 tablespoons sun dried tomatoes, chopped
4 teaspoons crumbled bleu cheese
1/4 red bell pepper, diced
croutons
2 bottles of balsamic vinaigrette salad dressing
Marinate the chicken in balsamic vinaigrette for one hour in a resealable plastic bag in the refrigerator. Grill or bake the chicken until done. Cut into strips. Toss salads in two separate bowls, mix in walnuts, sun-dried tomatoes, bleu cheese and red bell pepper. Place grilled chicken strips over each salad. Place croutons on each salad. Drizzle salad dressing over each salad at the table.
SNOW CRABS with RED SAUCE
Red Lobster Restaurant Recipe

1 1/2 pounds Alaska snow crab clusters, single-cut legs or split legs, thawed if necessary
2 tablespoons minced onion
1 garlic clove, minced
1 tablespoon butter or margarine
1 (8 oz.) can tomato sauce
1/4 cup ketchup
1/4 teaspoon crushed oregano

Rinse crab under cool water. Cut crab into serving-size pieces; score backs of leg sections using a large heavy knife or slit with kitchen shears. Saute onion and garlic in butter until tender; stir in remaining ingredients except crab. Simmer 5 minutes. Serve hot with chilled or steamed crab.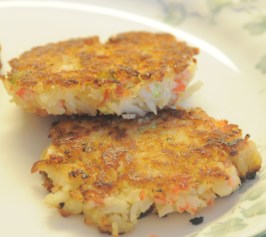 MARYLAND CRAB CAKES
Red Lobster Restaurant Copycat Recipe
Serves 4
1/2 teaspoon garlic, minced
1 tablespoon onion, minced
1 tablespoon celery, diced
2 tablespoons mayonnaise
1 whole egg
1/8 teaspoon salt
1/8 teaspoon black pepper
1 teaspoon Dijon mustard
1 teaspoon Old Bay Seasoning
1/4 cup breadcrumbs
1 pound lump crabmeat
2 tablespoons oil, for sauteing
In a large stainless steel bowl, combine all ingredients except crab meat and bread crumbs. Using gloved hands, gently mix in crab meat, then add bread crumbs. Spread a thin layer of plain bread crumbs on your work surface. Form crab mixture into equal balls, approximately two inches in diameter. Place on crumbs. Gently flatten the ball of crab mixture and round the edges. Form cakes about one half inch thick and three inches round. Refrigerate.
In a saute pan, melt 2 tablespoons of oil until hot. Gently slide in crab cakes 2 at a time. Brown on one side approximately 2 to 3 minutes. Turn and brown on the other side. Turn down heat to simmer and cook crab cakes another 5 to 8 minutes.
BANANAS FOSTER CHEESECAKE
Red Lobster Restaurant Copycat Recipe
3/4 cup all-purpose flour
3/4 cup finely chopped pecans
1/2 stick unsalted butter
3 tablespoons sugar
2 tablespoons golden brown sugar, packed
1 1/2 teaspoons vanilla extract
Filling:
2 pounds cream cheese, room temperature
1 1/4 cups sugar
2 tablespoons cornstarch
3 large eggs
2 cups pureed bananas (
about 4 bananas
)
1 cup sour cream
1 1/2 tablespoons fresh lemon juice
1 teaspoon vanilla extract
1 tablespoon ground cinnamon
1 pinch salt
Topping:
1 cup sour cream
1/4 cup sugar
1/4 teaspoon vanilla extract
1 (17 oz.) jar caramel sauce
2 tablespoons dark rum
2 bananas, sliced
Position rack in center of oven and preheat oven to 350 degrees. Wrap outside of 9 inch diameter springform pan with 3 inch high sides with heavy duty foil. Combine flour, pecans, butter, sugar, brown sugar and vanilla in large bowl. Mix well. Press mixture onto bottom of prepared pan Using electric mixer, beat cream cheese in large bowl until smooth. Gradually beat in sugar. Beat in cornstarch. Add eggs, one at a time, beating until just blended after each addition. Add pureed banana,sour cream, lemon juice, vanilla, cinnamon and salt. Beat just until combined.
Transfer filling to crust lined pan. Place pan in large roasting pan. Add enough hot water to roasting pan to come one inch up sides of springform pan. Bake until center of cake is just set, about 1 hour 15 minutes. Remove cake from oven. Maintain oven temperature. Meanwhile, prepare topping. Mix together sour cream, sugar and vanilla in small bowl until well blended. Spread topping over cheesecake. Bake until topping is set, about 10 minutes. Turn off oven.
Let cake stand in oven until cooled to room temperature, about 2 hours. Refrigerate cake until well chilled. Cover and refrigerate overnight. Cut around cake to loosen; remove pan sides. Transfer cake to platter.
Warm caramel sauce in small saucepan over low heat, stirring often. Mix in rum. Drizzle some sauce decoratively over cake. Arrange bananas atop cake. Cut cake into wedges and serve with sauce.